Last week we were awarded FOUR blog awards from the fabulous Tanya Anurag, author of
Kreative Korner
. Thank you so much for thinking of us. We truly appreciate you!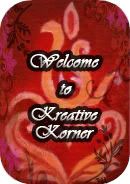 **************************************************************************
As tradition goes, we need to pass on these awards.
We have chosen the following inspiring blogs. We know we are supposed to select only 10 but we are breaking the rules because we had 11 of you we wanted to feature. All of you are so creative and have really made a positive impact on us. Thank you all so much!
2. Good Time Charlie of
Redoux
Rules to receive the award
answer a few questions,

give the award to 10 other bloggers

contact the winners to let them know that they have been

given this award

also, link back to the person who gave you the award
(Related to Butterfly Award)
1) Name your favorite colour?
Angela: Black
2) Name your favorite song?
Angela: I have so many it would be hard to choose.
Debbie: Same here, too many to name.
3) Name your favorite dessert?
Angela: Molten Lava Cake with a scoop of Vanilla Ice Cream
Debbie: Anything with Toffee
4) What wizzes you off at the moment?
Debbie: The Economy and our Health Care system.
5) Your favorite pet?
Angela: Our dogs Roxie and Tiffany and our cat Jackson that has six toes!
Debbie: Our two Jack Russell Terriers Daisy & Rose and a cat that adopted me.
6) Black or White?
Angela: Black
7) Your biggest fear?
Angela: Heights
8) Best Feature?
Angela: My eyes. They change colors from Blue to Green depending on my mood or what I am wearing.
9) Everyday attitude?
10) What is perfection?
Angela: My husband and my two beautiful children.
11) Guilty Pleasure?
Angela: Venti Iced White Mocha w/ Soy Milk from Starbucks
Debbie: A trip to the salon along with a facial and massage.
12) When you're upset you?
Angela: Cry and call my mommy.
Debbie: Cry or take a long walk.
(Related to the Versatile Blogger Award)
Share Seven Things About Yourself


Angela
1. My day job is in Technology.
2. I have a lead foot when I drive. I get that from my mom.
3. I met my husband when I was 18 years old and 19 years later we are still so much in love.
4. Tell me I can't do something and watch me do it!
5. When I am creating, I am VERY messy!
6. My favorite food is Sushi.
7. I love to travel. Our most memorable trips were to Amsterdam, London, Sicily and Malta.
Debbie
1. I have a lead foot. I passed it on to my daughters.
2. Both of my parents were adopted so my side of the family is very small.
3. I have a cat that I named DOG.
4. I am an animal lover.
5. I recently took a cruise to Mexico with my husband. It was amazing!
6. I have four beautiful grandchildren whom I adore.
7. I am an avid gardener. I love wandering through my gardens and enjoying the peacefulness of the outdoors.
Congratulations to the Winners!
Share this post!